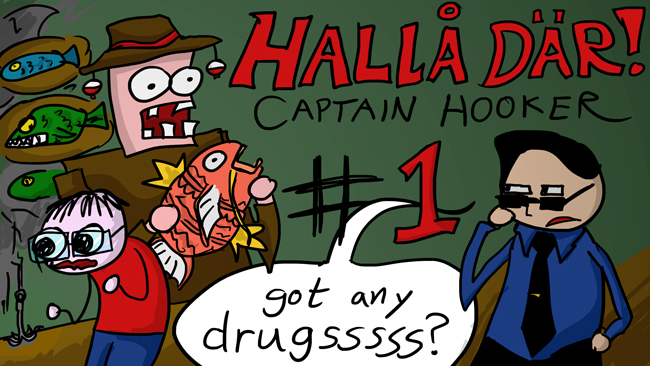 KLICKA HÄR FÖR ATT LADDA NER AVSNITTET
Äntligen händer det! En sprillans ny podcast från skaparna av webbserien Calle & Anders, med samma typ av meningslösa diskussioner om allting och ingenting (och Star Wars)! Skillnaden är att ett Calle & Anders avsnitt är ca 5 minuter långt medan ett avsnitt av Hallå Där! sällan kommer bli kortare än TVÅ JÄVLA TIMMAR. I detta första avsnitt listar vi ut vad vi ska ha för typ av format, och våra fyra musketörer (Jakob, Dennis, Anders, Calle) betar sig igenom en hel hög med ämnen:
UPPSALA INCIDENTEN: Calle is going to court! Varför stog han och bankade på polisstationen i 40 minuter i spöregn för att bli insläppt så han kunde erkänna brott?
FISKAFFÄREN: Vad avledde Dennis från a life of crime? Vilken roll spelade han i uppkomsten av Captain Hooker, världens sämsta superhjälte?
SLUTARTID: Jakob har lärt sig mycket under tre års studie av filmproduktion, och han väljer att applicera sina kunskaper på Star Trek, till Anders stora fasa.
BUFFY THE VAMPIRE SLAYER: Anders hatar Buffy + Jakob älskar Buffy = Anders VS Jakob.
DENNIS STORA SVARTA DILDO: Varför är Dennis så otroligt lätt att lönnmörda?
JOHNNY MNEMONIC: I veckans inslag av "Så Sämst att Det är Bäst" diskuteras Keanu Reeves film Johnny Mnemonic, en film som kan beskrivas som bizzaro versionen av The Matrix från ett ondskefullt parallellt universum som är fast i 80-talet.
ANDERS VS KONSTVÄRLDEN: Med mer inlevelse än ett krigstal från William Wallace förklarar Anders varför man inte ska vara rädd för att säga att konst är skit, oberoende av hur pretentiös konstnären än råkar vara.
Länkar: Johnny Mnemonic trailer, "I want to get online… I NEED a COMPUTER", Bildsökning efter "Sad Keanu", Pausmusik: Here it goes again av OK GO